One of the most popular casino game developers Bally started its career in the era of mechanical games. This signifies about the immense experience it has in the industry. This, plus the detailed graphics and a number of amazing features together make its games simply adorable! And one of such games is 5 Treasures you can launch at http://slotmine.com/5-treasures/. This is an Asian-themed game with lots of special features including free spins, progressive jackpots, etc. The five reel slot machine offers 243 ways to win cash money and up to 8.80 maximal betting per spin.
So, if you want to get more information about it before you pass to playing the game online for real money, keep reading this 5 Treasures slot review.
The Theme and Graphics
Just as the vast majority of fortune slots games, 5 Treasures has the Asian theme in its basis. Launching it, you will see a bunch of Oriental theme icons, design elements, and decorations. Mostly, these are Chinese animals, while the pay-tables and the reels are overwhelmed by Oriental symbolism. The sound effects are thematic, too. Starting the slot machine, players are given the chance to enjoy classic wind instrumental music and sound effects that promise to take them to the ancient Chinese world.
Bally casino game developer used the old cabinet of 5 Treasures, yet added a few modern elements to update the whole feeling of the game. Well, one can have nothing against this, as the graphics of the old 5 Treasures were impressive, too and re-using the basic setup wasn't inappropriate.
The red color is the dominating one in this slot, while symbols presented in green and blue, gold and purple give it an overall rich feel. All the animations here are quality. For instance, once you hit a wild, you will see the gold moving upwards. Hitting the jackpot, meanwhile, some lovely traditional Chinese characters will pop up behind the gold coins.
Barring the ubiquitous playing card symbols from 9 to the Ace, the symbols of the game are yet renewed.
Special Features
Playing cards from 9 to the Ace form the low-paying symbols of the slot machine. Besides them, there are also higher-paying ones pictured via Chinese animals. The highest-paying one is the fiery orange dragon that seems to be ready to blast everything on its way! Next comes a golden peacock with rich plumage and it's backed by blue color. The golden tiger icon, backed by green color, meanwhile, pays a bit lower just as the blue backed tortoise. And the final Chinese animal themed icon is the golden fish appearing in front of a yellow background.
What concerns the 5 Treasures wild symbol, this is pictured via an intricate symmetric tapestry in red and gold remarkable colors. Like other wilds, this icon is powered to substitute other icons on the reels thus creating winning combinations. Surely, it can do nothing with the scatter. Additionally, a wild icon can lead to getting a jackpot.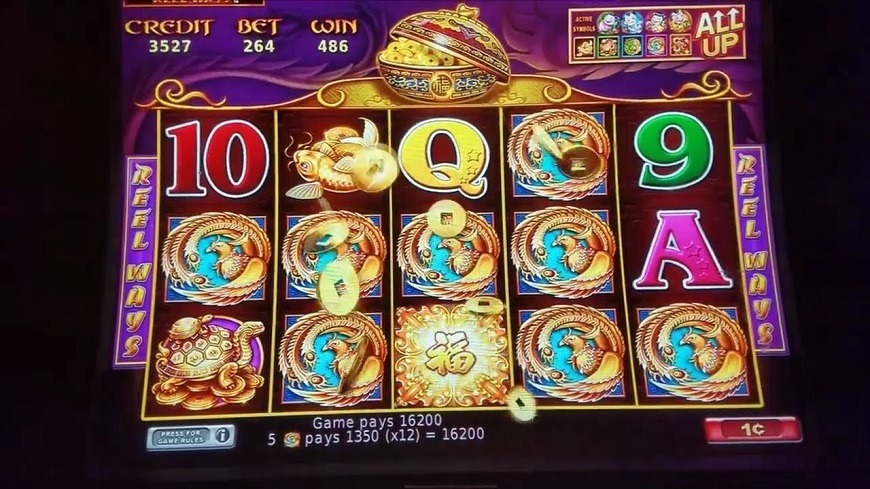 The scatter symbol of 5 Treasures is as unique as the wild. It is represented by two closed doors painted red. By getting at least three scatters on the reels, you will trigger the free spins bonus round. What makes these six free spins so unique is that the player is given a chance to choose one higher paying symbol and get it along with the playing cards during the free spins acting as the wild. In case of selecting the dragon symbol, expect 88 symbols on all the five reels overall. And as the payout for the symbols decreases, the number of the symbols will increase.
Choosing the golden fish icon, meanwhile, will bring you 128 icons on the reels, and so forth. The odd thing here is that by choosing a higher paying icon (such as the dragon, for example), you will get fewer icons on the reels but the winning will be higher if you get it. By choosing lower paying icons, in the meantime, you'll be provided with much more icons which, yet, won't pay high.
Bonus Round Fu Bat
Another bonus round 5 Treasures promises its punters is named Fu Bat. The latter is activated by landing three or more scatter symbols. Once done, 12 gold icons will be given to choose from. Each of them reveals a Fu Bat baby and you need to get three identical Chinese babies. Overall, there are four babies available each corresponding a jackpot - Mini, Minor, Major, and Grand. The jackpots are worth 10, 25, 800, and 10, 000 credits during the base level. So, if you are not so lucky and hit only the Minor jackpot, you won't be a great success even if your bet is the max 8.80.
Overview of 5 Treasures
5 Treasures slot machine developed by Bally company is a unique and involving game. It delivers a really good potential for its players to win with as many as 243 different ways of winning during a base game. And when it comes to bonus games, the whole fun starts! The free spins of 5 Treasures are truly original and the same can be said about the Fu Bat jackpot games. Especially lucky players can immensely increase their winnings by hitting a Fu Bat jackpot during the free spins!
If you haven't yet tried 5 treasures video slot machine, it's high time you do it! Be certain, wonderful emotions are guaranteed!
Digis headquarters used to be located in American Fork, Utah. But they recently moved their corporate headquarters. I will keep checking Google Plus until it shows the new address and I will update the map on this page too. Besides the corporate office Digis has some smaller satellite offices located in:
· Kaysville, Utah
· Logan, Utah
· Nampa, Idaho
Sept. 4, 2014 UPATE: NEW Digis Headquarter (I guess this is where the new and larger call center is… at least that is what I heard on The Doug Wright Show)
Corporate Office
DIGIS
727 E. Utah Valley Drive
American Fork, UT 84003
Where is Digis Customer Support located?
Digis gets an A+ rating from me for having a LOCAL CALL CENTER in Utah County! Don't you just hate calling customer service and speaking to someone in India or somewhere else, because they don't understand what you are saying. Sure they may technically speak English, but speaking and understand are two different levels of language mastery. I know that is what happed to me with calling Comcast customer service. I think an India customer service representative would answer the phone, then listen to my problem, then not understand me and tell me they were going to transfer me to an "account specialist" to help fix the problem. The "Account Specialist" ended up being someone in a call center in the United States. I know companies are always trying to cut costs, but FYI if you want to really waste your customer's time and make them really frustrated then go ahead and outsource your call center. I will get into the quality of the customer service and tech support below, but I am stoked that Digis's Customer Service in LOCAL!
How did Digis get started? What is their Story?
Digis was started in 1999 by Paul Lambert. Paul was just trying to help his small neighborhood community get some better internet access and thus Digis was born. As a new entrepreneur Paul must have been excited to get his 100th customer in 1999. Paul focused his business on providing internet service to apartment buildings through 2003. Then in 2003 Digis had it's First Generation Network Upgrate and began to offer Wireless Internet Technology that would deliver internet service to residential and business users in Utah County and Salt Lake County.
In 2004 Digis reached the 1,500 customers mark, which must have put them on the radar screen of JAB Broadband. Because in May of 2006 JAB Wireless Inc. acquired 51% ownership of Digis. JAB pumped more money into Digis to make it grow and completed the Second Generation Network Upgrade. In 2006 Digis expanded in Utah to serve Cache, Box Elder and Utah Counties. In 2007 Digis expanded in Utah to Davis, Weber, Morgan and Salt Lake Counties. Digis also expanded into Idaho in Ada and Canyon Counties (I think JAB/Digis bought an existing internet company in Idaho and just took over these service areas). In 2009 Digis officially becomes a wholly owned subsidiary of JAB and reaches 25,000 customers (if anyone knows what the difference between buying Digis's ownership at 51% and becoming a "wholly owned subsidiary" please let me know).
In 2010 Digis expands in Utah to Wasatch County and in Idaho to Franklin County. In 2011 the Third Generation Network Upgrade was completed. The Idaho service area expanded to Bannock, Cassia, Power and Caribou County. "What county do you live? POWER County. I bet Voldemort would have loved to live in this county. That reminds what Voldemort told Harry, "There is no good and evil, there is only power…and those too weak to seek it!" In 2012 Digis expanded in Idaho and a new state Nevada. Idaho expanded into Bonneville, Twin Falls, and Madison Counties. Nevada expanded to Clark, Elko and Nye Counties.
Digis became a "Netflix Open Connect Provider" and Netflix partner in 2012. What does that mean? I guess it means that Netflix will stream movies faster throught their "Open Connect Providers" such as Digis. This is what Netflix says about it https://www.netflix.com/openconnect:
"ISPs can directly connect their networks to Open Connect…Major ISPs around the world have already connected to Open Connect, including Frontier, British Telecom, TDC, Clearwire, GVT, Telus, Bell Canada, Virgin, Cablevision, Google Fiber, Telmex, and more. As part of Open Connect, we are also sharing our hardware design and the open source software components of the server. These designs are suitable for any other provider of large media files, and are very cost efficient. We welcome commentary and improvements, which will be shared with the community with the goal of a faster, less expensive Internet for all."
Netflix's Open Connect Network was started on Jun 4, 2012 then Netflix Vice President, Ken Forance made the accouncement: http://blog.netflix.com/2012/06/announcing-netflix-open-connect-network.html
In 2013 Digis expanded in Utah to Tooele County, in Idaho to Butte, Adams, Fremont, and Oneida Counties, and in Nevada to White Pine County. This same year JAB was named the "Operator of the Year" by the Wireless Internet Providers Association. Digis also hit the mark of 65,000 customers.
In 2014 JAB was named one of "North America's Top 100 Companies" by Red Herring Magazine. Digis was also named "Best Internet Provider" from Utah Valley Magazine." The Fourth Generation Network Upgrade was completed and implemented. Digis has acquired 29 new companies since 2006 (remember that was the year JAB bought Digis). As of 2014 JAB is the "largest Fixed Wireless Provider in North America." Digis is the largest division of JAB.
What is "Fixed Wireless Internet Service" and how does it work?
I am still doing my homework and researching this technology. I will update this page with a full review of the technology, but basically it is a dish that attaches to your roof that communicates via radio wave to a internet broadcast tower.
Digis Reviews: PROS AND CONS
Speed:
Packages:
Price:
You can talk a look at the "digis internet deals" page to find the best current deal for Digis Internet Service. I always like to look for coupons or discounts to save me some money. I don't make any money or anything if you sign up. You will have to call Digis yourself and talk to them to try to redeem the deal.
Digis Reviews: Are customers happy?
Here is the direct link to the BBB page: http://www.bbb.org/utah/business-reviews/internet-services/digis-llc-in-american-fork-ut-22008774/
Click here to submit your review.
---
---
Excellent Service...even on a Saturday
Mar 10, 2015
by
Christine
We experienced excellent installation today, a Saturday no less. Nolan was our Tech guy and he was extremely nice and competent and friendly. My service was set for 8 am to Noon and he arrived promptly a few minutes after 8am. He explained everything and was very professional. I appreciated the text reminders and phone call from him. Thank you, we are off to a good start!

---
I could not be happier
I could not be happier. The installer was very professional. He explained what he was doing and listened to my ideas and suggestions. After we got hooked up, he helped me link up my devices and made sure we got connected. What a great man! Thank you DIGIS! I am excited for a long relationship.

---
i was on hold forever every time
Feb 03, 2015
by
cathy westover
Every time i call customer service, they're temporarily experiencing a high call volume. Really? Every time? They're nice and helpful when i finally reach sombody, but i'm thinking it's time to put in a few more phone lines!!!

---
Resolved the Problem Quickly
We had a problem with our phone line here at the house, when the tech.arrived he resolved the problem quickly and was very nice. Thank you for having such a person who takes joy in your employment. p.s. I never give 5 start ratings unless service is perfect and flawless. 4 starts is a high complement coming from me.

---
Went above and beyond!
Dec 08, 2014
by
Forrest B.
"Our installer Andy was awesome, he did a wonderful job making everything out of site out of mind when it comes to the look of the job from outside the house! He is very caring when it comes to doing his job both with his quality of work & his friendliness with the customer. He went above & beyond to answer any questions I had as well as working hard while having a conversation with customers to have that more 1on1 customer basis. I he obviously knows his job and the equipment he works with very well & from what I seen is more then willing to go above & beyond to make sure the job is A+ & the customer satisfaction is also the same! Thank you Andy & Digis for a job well done! "

---
Excellent
Dec 03, 2014
by
Darrel S.
Mike was excellent in installing my internet. He was very professional in my install.

---
10 out of 10
Very helphfull . 1 to 10 it would be a ten

---
Installation was Quick and Painless
Nov 07, 2014
by
Crystal C.
The installation was quick and painless for me, and the techs were friendly and respectful.

---
I appreciate their professionalism and getting the job done!
Oct 27, 2014
by
Blaine H.
Andy and Charles did a great job installing the system and getting it working (which didn't take much at all.) Your system is designed very professionally and the start-up is effortless.
I don't know what it is with installers, but I have had one from Digis and a satellite TV company come to the house this week and the first thing they both said was "We won't be able to get you a signal and make the installation." The TV guy was packing up his van when I suggested that he get on the roof and try to get a signal. When he did, he got a perfect signal. Andy said about the same thing to my wife. I had her tell him exactly where to put the dish and the signal was perfect. Maybe training would help with the "I can't do it" attitude. It should be "I'll explore the options and get you a signal if there is any way to do it." Then of course, if it can't be done the customer will at least know that he tried. In both cases, if I had not pushed them to TRY, they would have left and told headquarters that no signal could be had. I think this is common to a lot of installers, not just yours. Training on positive thinking and customer service would go a long way. That said, Andy and Charles did a bang up job on the installation and I appreciate their professionalism and getting the job done. Thanks Guys.

---
Called to Disconnect Service... Now Loyal Customer!
I just had to write in to let you know that representative Eric (last name removed by webmaster for privacy) was wonderful resolving my issue with my internet speed, that I am in need for work. I called in to disconnect my service but my mind was quickly changed. Not only was Eric very kind and friendly. But his confidence and knowledge assured me that I was going to be helped in a timely manner. In this fast paced world we need top notch representatives like Eric! He definitely needs a commendation for his hard work. Thanks Eric!

Your loyal customer,
Dinna M.

---